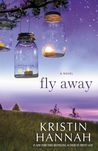 Fly Away
by
Kristin Hannah
My rating:
5 of 5 stars
When Kate Ryan dies everything seems to fall apart.
Tully Hart has been best friends with Kate since they were little girls.
Tully tries to fulfill her death bed promise to her friend, to look out for her family.
Problem is Tully knows nothing about motherhood, family or taking care of people.
Sixteen year old Marah Ryan is devastated by her mother's death, she becomes unreachable in her grief.
Tully and Marah turn to substance and self abuse as a way of coping with Kate's death.
They each need family, but feel nothing is important anymore and that they are alone.
Until tragedy strikes and they soon realize LOVE,FAMILY, and FORGIVENESS is what matters most.
This was a wonderful and touching read!!
I loved the story line and characters.
View all my reviews